Europe 2020 - Venture the World
2020 Europe Regional Venture Outlook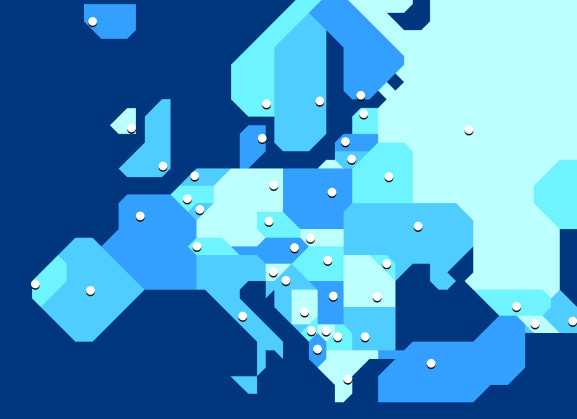 Although the US and China are the world's premier locations for investing in venture backed disruptive tech companies, Europe is having success in creating unicorn companies valued over $1B USD. Funding rounds of European companies valued below $500M has remained stable around $5B over the last five years. Surprisingly, the funding of companies valued over $500M that has increased from around $2B in 2015 and 2016 to nearly $7B in 2019. Furthermore, current market value European unicorns has nearly tripled from $4.2B in 2015 to $11.9B in 2019. 
VC's are beginning to see that large scale companies can be built in Europe. The key is finding funding teams and VC partners that understand the cultural and regulatory differences between countries and regions. Given these understandings, a positive trend emerges.  The US has a 300 million population and a median USD income per capita approaching $60,000 according to the world bank. According to the South China Morning Post, China has a middle class of 400 million making over $4,000 USD income per capita. The European Union, and its population of 500 million has a median income approaching  $40,000 USD according to eurostat. This clearly shows that Europe has the population and income to support a robust startup environment. 
Three areas that we are following in Europe are regulatory compliance, environmental tech, and fintech. Unlike US's states or China's provinces, the European Union's countries are sovereign and have a wide ranging set of regulatory rules and compliance mandates. In the past this was a big reason that investors shied away from Europe but it could be a selling point for european startups. For example, GDPR presents an opportunity for European startups to lead in data privacy. GDPR compliance continues to confound global tech firms and the fines on companies are mounting. Local solutions could not only help tech firms navigate the myriad of issues in Europe, but help companies with regulatory issues around the world.  
Environmental tech is another area we are following in Europe. Much of the funding for European startups comes from local governments and sustainability is a key concern for governments. From battery tech, to sustainable food supply, to product supply chains, to carbon capture, there is no shortage of interesting startu[s in the environmental tech space. 
Fintech is the sector with the most  unicorns in Europe. German company N26 raised a $300 million Series D.  I believe Europe's success in creating fintech unicorns will translate downstream into earlier funding rounds. In one recent example, Checkout.com raised A $230 million series A; the largest fintech series A in europe. 
In 2020, we are watching the following European trends:
The rise of startup hubs outside of London, Paris, Berlin, and Stockholm. 15 European cities have 50 thousand developers, 14 different countries have at least 1 unicorn, and over a dozen received $1B in startup investments in the last decade. We expect these cities to compete as regional startup hubs. 

Government assistance. We expect to see European governments relax rules for startups operating within each country's borders as a way to convince highly capitalized countries to hire local workers. While this also comes with greater compliance issues with every country a company operates in, this is also a chance to arbitrage growth opportunities across europe. I think we will see more carrots imploring companies to set up shop across the continent. 

US investors will actively invest in Europe. increase. Traditionally European startups spend years building networks into US VC's. A few years ago US VC's made up 7% of European startup capital, reached 19% in 2018, and should reach 30% in the years to come.